The Ritual of Namaste 24H Hydrating Gel Cream Refill
24H Hydrating Gel Cream Refill
The Ritual of Namaste 24H Hydrating Gel Cream Refill, 50 ml
Healthy skin starts with proper hydration--it is an essential step in your soulful skincare routine. Maintain the
...
Show more
Healthy skin starts with proper hydration--it is an essential step in your soulful skincare routine. Maintain the sparkle of younger-looking skin with this gel cream moisturiser for intense hydration. Containing an active hydrating complex of hyaluronic acid and Indian rose, it deeply quenches and smooths the skin. Natural plant-based antioxidants help to protect the skin from the negative effects of urban pollution.
Hyaluronic Activator Complex, Hyaluronic Acid
Free Delivery on all orders.
Free Return within 14 days
How to use your refill cup: First, remove the empty inner cup from the jar by pressing the bottom of the cup upwards. Then insert the new refill cup by slotting it into the jar. Remove the sleeve of your refill and press the cup into the glass until you hear a click. Your cream is now ready for use. Apply each morning onto a clean face. Sweep upwards in circular motions until fully absorbed. Use in combination with Hydrating Serum for improved results. Apply SPF every day to protect your skin and keep it beautiful.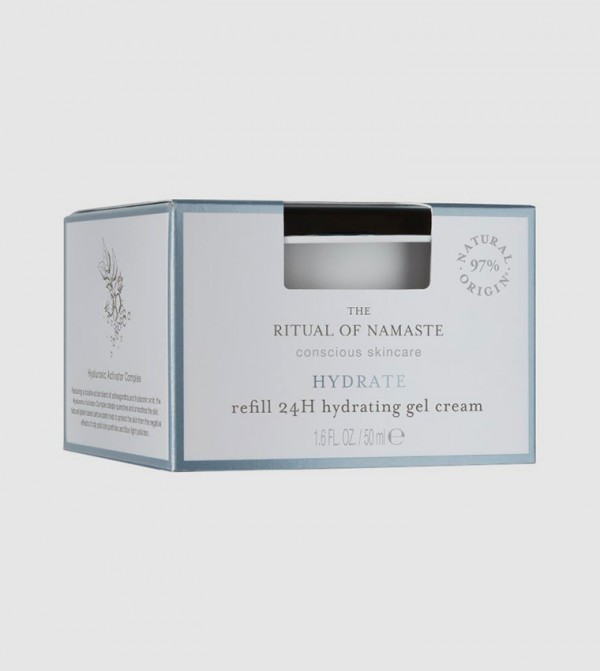 24H Hydrating Gel Cream Refill
The Ritual of Namaste 24H Hydrating Gel Cream Refill