The Ritual of Namaste Ageless Firming Night Cream Refill
Ageless Firming Night Cream Refill
The Ritual of Namaste Ageless Firming Night Cream Refill, 50 ml
Show respect for your skin and respect for nature with this eco-chic refill for your active firming night cream from The
...
Show more
As low as
AED 157
Regular Price
AED 210
Show respect for your skin and respect for nature with this eco-chic refill for your active firming night cream from The Ritual of Namaste. It fits perfectly in your luxurious jar and contains the same great formula to help your skin regenerate overnight. During the nighttime, as well as being more active, skin is more receptive to the skincare products you apply. This Active Firming Night cream with CICA Firming Complex will help lift and improve the skin's firmess overnight. With rejuvenating and anti-wrinkle properties, it will nourish and soothe skin, as well as help reduce the appearance of wrinkles and fine lines. The result? Softer, smoother and revitalised skin. • 97% ingredients from natural origin, 3% lab made to ensure product texture and stability. • rejuvenating and anti-ageing • vegan friendly • suitable for all skin types, including sensitive skin • dermatologically tested Order now from the official webshop.
CICA Firming Complex, CICA
Free Delivery on all orders.
Free Return within 14 days
How to use your refill cup: First, remove the empty inner cup from the jar by pressing the bottom of the cup upwards. Then insert the new refill cup by slotting it into the jar. Remove the sleeve of your refill and press the cup into the glass until you hear a click. Your cream is now ready for use. Finish your evening cleansing routine by applying the firming night cream onto your face and neck, taking care to avoid the eyes. Massage gently with upward and outward motions. Use in combination with Ageless Firm & Lift Active Serum for improved results.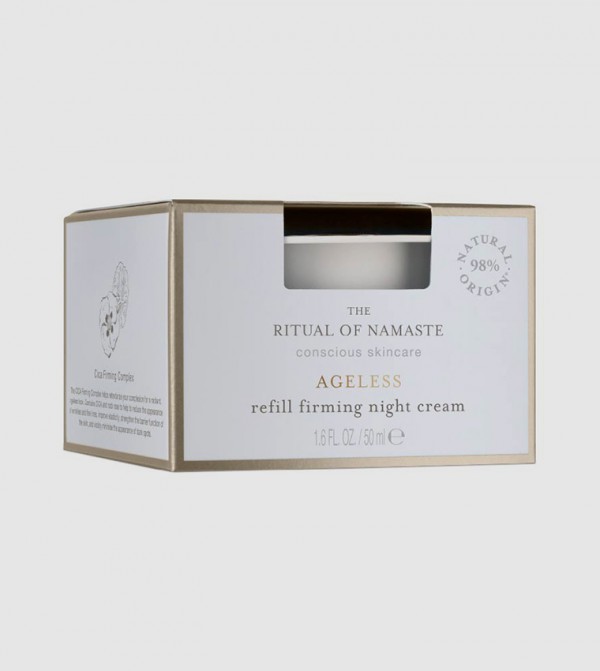 Ageless Firming Night Cream Refill
The Ritual of Namaste Ageless Firming Night Cream Refill