Amsterdam Collection Fragrance Sticks
Amsterdam Collection Fragrance Sticks
Amsterdam Collection Fragrance Sticks, 450 ml
The luxurious fragrance sticks in the Amsterdam Collection feature a unique and brand-new design. The gorgeous wooden
...
Show more
The luxurious fragrance sticks in the Amsterdam Collection feature a unique and brand-new design. The gorgeous wooden cap and gold leaf design were inspired by a unique 17th-century Delft blue vase, which beautifully portrays the Asian influences that transformed the Dutch lifestyle, art and decorations during the Golden Age. The rich and fresh perfume of exotic flowers, a Dutch tulip accord, cardamom and the radiance of Japanese yuzu will take you back to ancient times, a time when the Dutch brought home exotic treasures. The fragrance sticks can be used all over the house: from living room to bathroom, kitchen and toilet. How to use: Enjoy the elegant and special atmosphere for up to 5 months. Arrange the sticks in the bottle. Turning the sticks is not necessary, and may result in a shorter fragrance experience. Order now from the official webshop.Order now from the official webshop.
Tulip, Japanese Yuzu
Free Delivery on all orders.
Free Return within 14 days
We created a bespoke collection in celebration of an exclusive partnership with the famous Rijksmuseum in Amsterdam. Submerge yourself into an unforgettable experience of fragrant flowers and exotic spices. The Limited Edition: Amsterdam Collection features Dutch tulips and Japanese yuzu and pays tribute to the historic connection between East and West.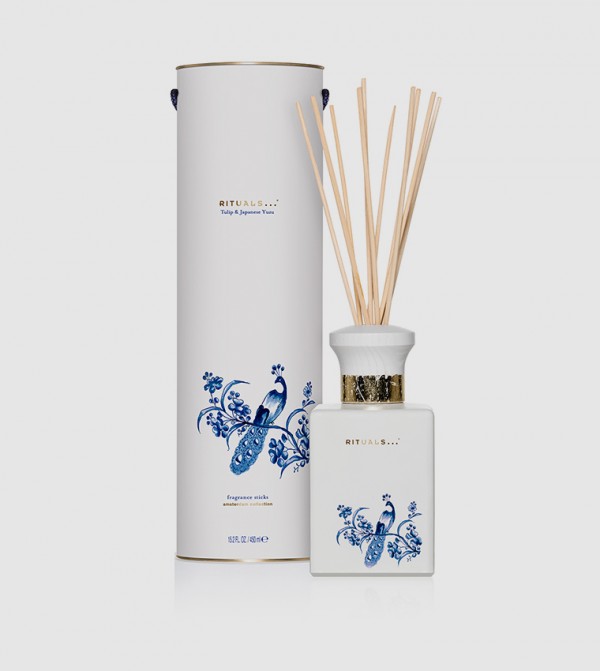 Amsterdam Collection Fragrance Sticks
Amsterdam Collection Fragrance Sticks