The Ritual of Holi
Bath Salt
Bath Salt, 100 g
Create a super colourful & eccentric bath experience with The Ritual of Holi Crackling Bath Salts! An explosion of
...
Show more
Create a super colourful & eccentric bath experience with The Ritual of Holi Crackling Bath Salts! An explosion of colour - they're bright, they're fun. Step into the tub to naturally start the crackling effect, which will disappear gradually. Close your eyes for a second and revel in the amazing candy-like fragrance of lovely white lily and delicious peach flower. Then, open your eyes and let your inner artist emerge when you swirl the water to create beautiful colour shapes. When you step out, you'll feel energised and ready for the day thanks to the calming and soothing properties of the white lily and the detoxifying properties of peach blossom. Discover The Ritual of Holi Crackling Bath Salts, for super happy, silky and smooth skin. Order now from the official webshop.
White Lily White Lily Is A Symbol Of Purity Of Innocence, Thanks To Its The Important Role It Played In Greek And Roman Mythology. The Complex, Aromatic Notes Of The White Lily Provide A Rich, Warm And Mysterious Scent. Peach Blossom Peach Blossom Is Renewing And Is Well Known For Its Detoxifying Properties. It Is A Symbol Of Renewal, Vitality And Youth. In Traditional Medicine, The Flowers Were Used To Hydrate And Illuminate The Skin. Peach Blossom Is Well Known As An Antioxi-Dant And Detoxifying Agent.
Free Delivery on all orders.
Free Return within 14 days
Sprinkle one sachet gently into your bathwater and stir with your hand to create colourful purple swills and to experience the crackling effect at its best.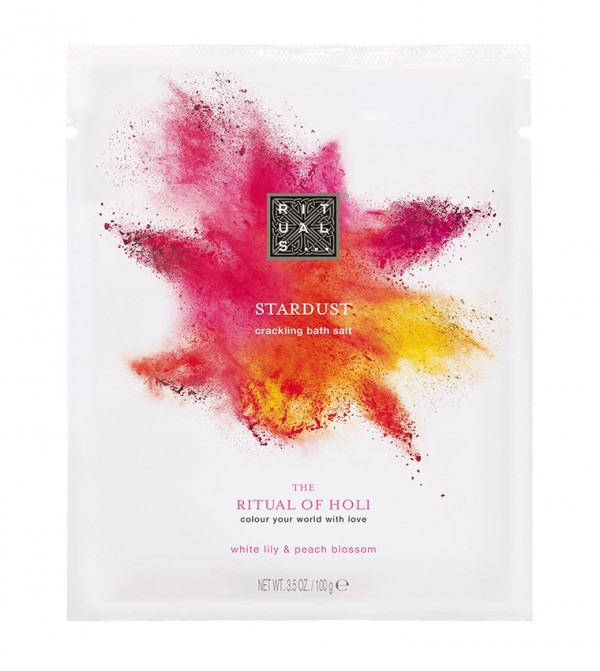 Bath Salt
The Ritual of Holi