The Rituals of Ayurveda Beauty to Go - Ayurveda 2022, S
New Beauty to Go - Ayurveda
The Rituals of Ayurveda Beauty to Go - Ayurveda 2022, S
Give The Gift Of Inner Harmony With The Ritual Of Ayurveda. The Perfect Treat For Yourself Or A Loved One, This Set
...
Show more
Give The Gift Of Inner Harmony With The Ritual Of Ayurveda. The Perfect Treat For Yourself Or A Loved One, This Set Contains A Scrub Glove, Shower Foam And Body Cream Which Combine To Make A 3-Step Treatment For A Balanced Beginning To Your Day. Inspired By Ayurveda, An Ancient Wisdom From India, This Collection Has Been Carefully Designed To Cleanse And Nourish Your Skin And Stimulate The Flow Of Energy - An Ideal Start Any Morning. Order Now From The Official Webshop.Order Now From The Official Webshop.
Free Delivery on all orders.
Free Return within 14 days
Pump a small amount of gel onto the glove and apply to skin in circular movements. In combination with water, the gel changes into a rich, relaxing foam sensation. Finish your routine by massaging the rich cream into the whole body.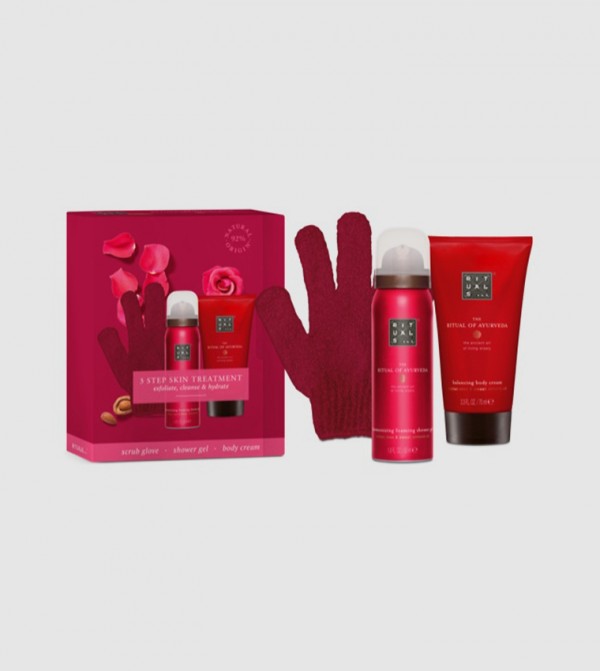 New Beauty to Go - Ayurveda
The Rituals of Ayurveda Beauty to Go - Ayurveda 2022, S