Private Collection
Cotton Blossom Scented Candle
Scented Candle,360 g
This luxurious scented candle from our Private Collection evokes a sense of fresh, natural surroundings – for ultimate
...
Show more
This luxurious scented candle from our Private Collection evokes a sense of fresh, natural surroundings – for ultimate peace of mind. It's no surprise this delicate, soft, and powdery fragrance provides a calming and tranquil touch. Energetic and fresh with velvety sweet mandarin, delicate florals like jasmine, tuberose and violet and a pampering base of sandalwood and balsamic notes. Provides up to 60 hours of burning time.
Contains 1-(1,2,3,4,5,6,7,8-Octahydro-2,3,8,8-Tetramethyl-2-Naphthyl)Ethan-1-One; 3-P-Cumenyl-2-Methylpropionaldehyde; [3R-(3α,3aβ,7β,8aα)]-1-(2,3,4,7,8,8a-Hexahydro-3,6,8,8-Tetramethyl-1H-3a,7-Methanoazulen-5-yl)Ethan-1-one; α-Methyl-1,3-Benzodioxole-5-Propionaldehyde; 1,2,3,5,6,7-Hexahydro-1,1,2,3,3-Pentamethyl-4H-Inden-4-One; [3R-(3α,3aβ,6α,7β,8aα)]-Octahydro-6-Methoxy-3,6,8,8-Tetramethyl-1H-3a,7-Methanoazulene.
Free Delivery on all orders.
Free Return within 14 days
When lighting the candle for the first time, let it burn until the top layer has melted (± 3-4 hours). This results in an even burn.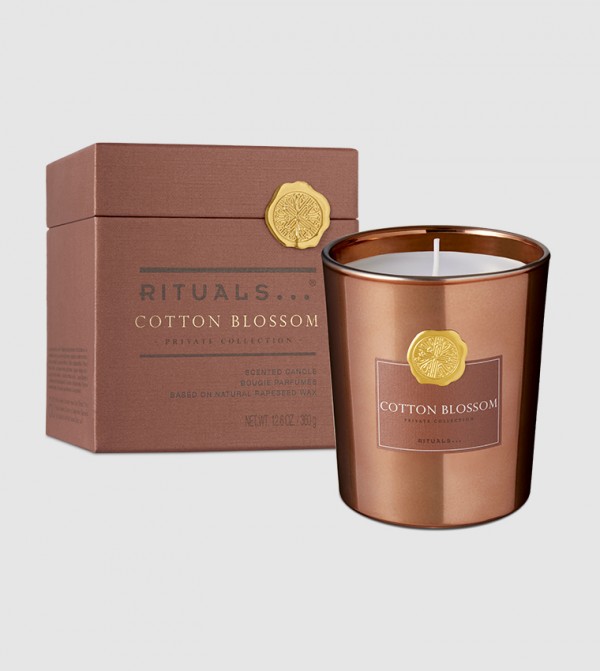 Cotton Blossom Scented Candle
Private Collection