The Ritual of Hammam
Fragrance Sticks
Fragrance Sticks, 250 ml
Experience the aromatic and revitalising power of eucalyptus and rosemary in the comfort of your own home with The
...
Show more
Experience the aromatic and revitalising power of eucalyptus and rosemary in the comfort of your own home with The Ritual of Hammam fragrance sticks. These sticks provide a natural and stylish way to fragrance your space, beginning with vibrant mint and bergamot for an energetic lift. Complemented by aromatic herbal notes, the heart features lush floral and watery nuances anchored by fresh aloe vera accents. Closing with white musk and sandalwood, wrapping your senses in a warm and reassuring feeling. Fragrance will last up to 3 months.
CONTAINS Linalool; Eucalyptol; Citronellol; 4-Tert-Butylcyclohexyl Acetate; Linalyl Acetate; Pentadecalactone; d-Limonene; Tetramethyl Acetyloctahydronaphthalenes; Alpha-Isomethyl Ionone; Geraniol; Heliotropine; Reaction Mass Of Cis-4-(Isopropyl)Cyclohexanemethanol And Trans-4-(Isopropyl)Cyclohexanemethanol; L-Beta-Pinene.
Free Delivery on all orders.
Free Return within 14 days
Place the elegant, natural sticks in the perfume-filled bottle. This formula does not require the sticks to be turned. If you would like an extra fragrance experience, turn the sticks whenever you like. Wash your hands with soap and water afterwards. NB: if you turn the sticks often, they may last less than 3 months.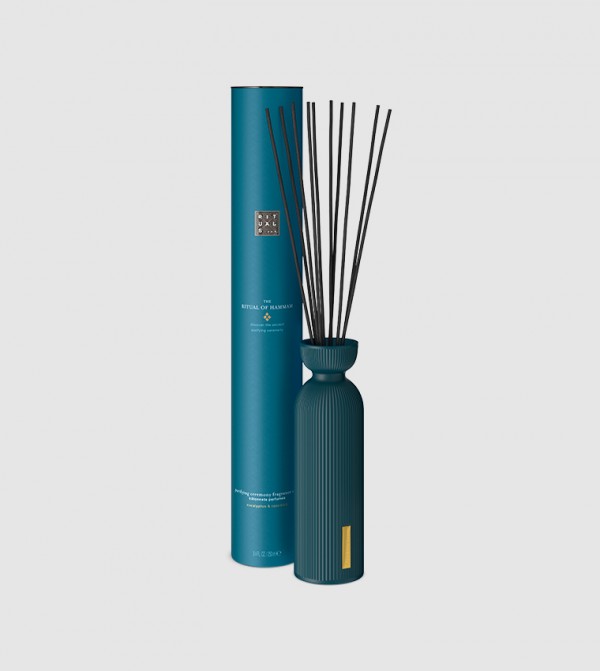 Fragrance Sticks
The Ritual of Hammam