The Ritual of Holi
Happifying Body Mist
Happifying Body Mist, 150 ml
Top off your Holi awesome ritual with this sparkalicious body mist. Spray this addictively sweet scent and let your
...
Show more
Top off your Holi awesome ritual with this sparkalicious body mist. Spray this addictively sweet scent and let your inner sparkle shine through. Symbolising both purity and vitality, enjoy the soothing and calming effects of white lily and the renewing and detoxifying properties of beach blossom when you use this mist on your skin. Did you know that these ingredients were used to hydrate and illuminate the skin in traditional medicine? They're sure to put a smile on your face for the entire day! Order now from the official webshop.
White Lily White Lily Is A Symbol Of Purity Of Innocence, Thanks To Its The Important Role It Played In Greek And Roman Mythology. The Complex, Aromatic Notes Of The White Lily Provide A Rich, Warm And Mysterious Scent. Peach Blossom Peach Blossom Is Renewing And Is Well Known For Its Detoxifying Properties. It Is A Symbol Of Renewal, Vitality And Youth. In Traditional Medicine, The Flowers Were Used To Hydrate And Illuminate The Skin. Peach Blossom Is Well Known As An Antioxi-Dant And Detoxifying Agent.
Free Delivery on all orders.
Free Return within 14 days
Shine like the colourful star that you are! Hold the bottle upright and spray a fragrant, dewy cloud for you to walk through. It works wonders on your skin, hair, your bedroom or your favourite outfit!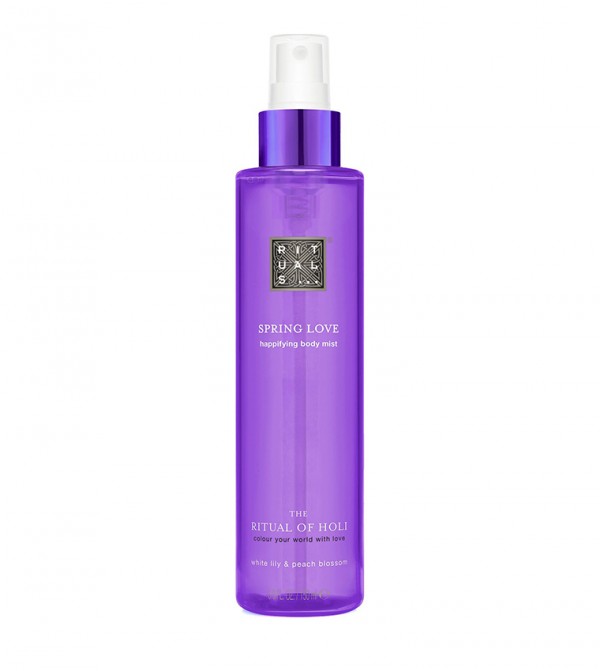 Happifying Body Mist
The Ritual of Holi