Mucho Matcha Body Scrub
Mucho Matcha Body Scrub
Mucho Matcha Body Scrub, 220 ml
Treat yourself to the most luxurious exfoliation experience ever with this nourishing and skin-brightening body scrub
...
Show more
As low as
AED 86
Regular Price
AED 115
Treat yourself to the most luxurious exfoliation experience ever with this nourishing and skin-brightening body scrub from the new Scrub Therapy Collection. This transformative new collection brings you six unique texture scrubs all carefully formulated to infuse your skin with skin-loving fatty agents and nourishing vitamins. The mild Mucho Matcha body scrub transforms from a magical gel into a milky matcha madness with caring sunflower and avocado oil, potent vitamin E, matcha and cellulose scrub particles. Perfect for gentle exfoliation. With nourishing and brightening properties to remove dead skin cells and impurities thoroughly, and rejuvenate the skin to help you achieve an enviable glow and even skin tone. Matcha is rich in antioxidants. Cellulose particles leave your skin feeling softer and promote absorption of moisturisers applied afterwards. Carefully curated to benefit your skin optimally, this mild body scrub contains 94% ingredients of natural origin. The remaining 6% are clean & conscious lab-made ingredients which support the integrity and safety of our formulations. Order now from the official webshop.Order now from the official webshop.
Matcha
Free Delivery on all orders.
Free Return within 14 days
Discover the perfect skin remedy for the ultimate at-home spa treatment. Massage the matcha scrub into damp skin using circular motions. Rinse off with warm water. For best-looking, glowing skin, use 1-2 a week.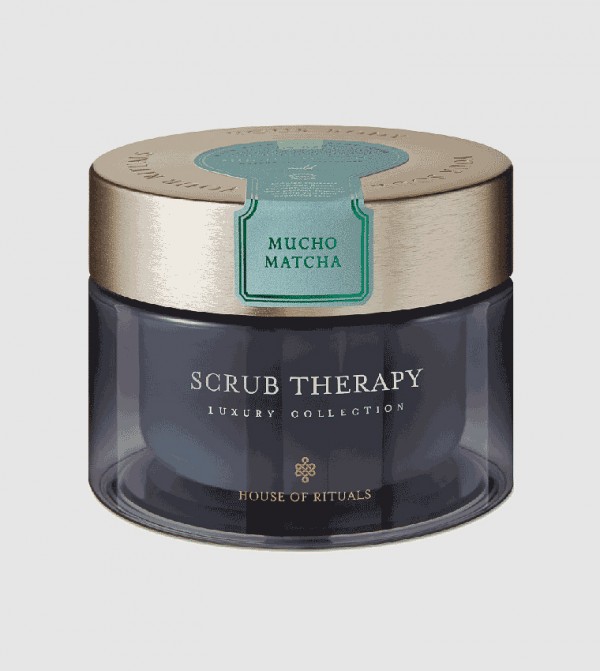 Mucho Matcha Body Scrub
Mucho Matcha Body Scrub