The Ritual of Karma Sun Protection Milky Spray 30
Protecting Sun Milk Spray Spf 30 – High
Protecting Sun Milk Spray Spf 30 – High, 200 ml
A hydrating lotion spray with SPF 30 that is rapidly absorbed by the skin and non-sticky. Protects the skin against
...
Show more
A hydrating lotion spray with SPF 30 that is rapidly absorbed by the skin and non-sticky. Protects the skin against premature aging from UVA and UVB rays and promotes a sunny tan. An advanced protection system containing a powerful natural anti-oxidant complex based on White Tea, natural Vitamin E and Ginkgo Biloba. Water resistant. After sun exposure, always use the Karma After Sun Tan Maximizer to nourish the skin and prolong your tan. . Our sun care products are in compliance with the Hawaiian reef safe sunscreen law - meaning they are free from the UV filters that are banned in Hawaii and can have a negative impact on coral reefs. Order now from the official webshop.
Organic White Tea Ginkgo Biloba
Free Delivery on all orders.
Free Return within 14 days
Apply generously before sun exposure. Re-apply regularly, particularly after perspiring, swimming or drying off.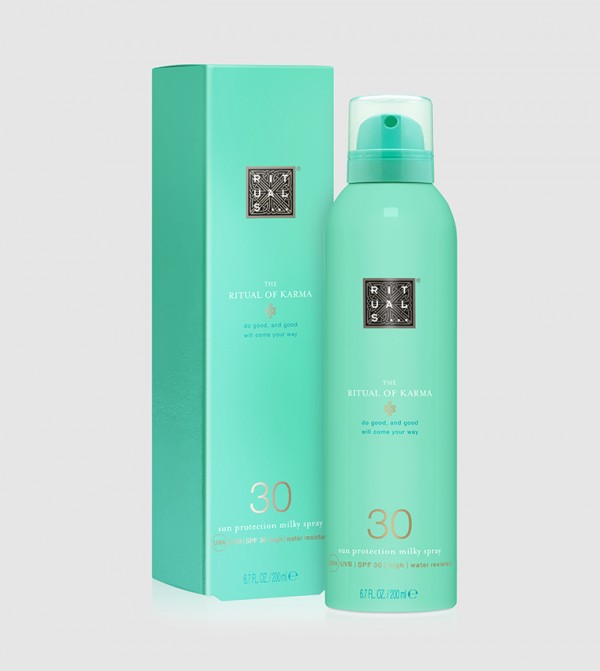 Protecting Sun Milk Spray Spf 30 – High
The Ritual of Karma Sun Protection Milky Spray 30