The Ritual of Ayurveda Refill Hand Wash
Refill Hand Wash
Refill Hand Wash, 300 ml
A refill pack of The Ritual of Ayurveda Hand Soap. This enables you to easily refill your existing, empty luxury soap
...
Show more
A refill pack of The Ritual of Ayurveda Hand Soap. This enables you to easily refill your existing, empty luxury soap bottle. A combination of the ancient Ayurvedic ingredients Sweet Almond Oil - the perfect skin softener, and Indian Rose - for a relaxing effect on mind and body. Transform an everyday routine into a meaningful moment with this hand wash from The Ritual of Ayurveda. Enriched with Indian rose and sweet almond oil, the soap-free formula helps to regulate the hydration and protects your hands. Combine it with hand balm from the same range and display them on one of our luxury trays for a stylish accent. This hand wash with 93% of natural origin ingredients is carefully curated to benefit your skin optimally. The remaining 7% is to ensure the preservation and safety of the products Order now from the official webshop.
Indian Rose,Sweet Almond Oil
Free Delivery on all orders.
Free Return within 14 days
Place hand wash bottle in the sink and remove the pump. Tilt the opened refill bag with the nozzle downwards onto the Hand Wash bottle and squeeze until happy.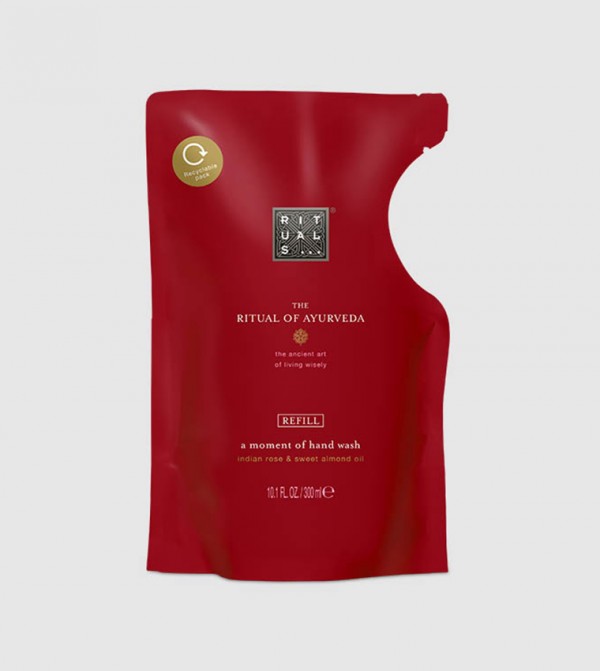 Refill Hand Wash
The Ritual of Ayurveda Refill Hand Wash