The Ritual of Sakura
Scent Booster & Softener in 1 Sakura
Luxurious Scent Booster & Softener In 1,750 ml
Treat your clothes and bed linen to the ultimate sensorial fragrance experience with our scent booster & softener in 1
...
Show more
Treat your clothes and bed linen to the ultimate sensorial fragrance experience with our scent booster & softener in 1 from The Ritual of Sakura. Featuring a longer lasting, sweet and floral scent of cherry blossom and rice milk. The gentle booster & softener can be used with all detergents and all types of fabrics, lasting around 30 washing cycles. Just add 25-35 ml to your machine's dispenser drawer and start the preferred programme. Your items will emerge clean, soft and smelling of relaxing florals.
Contains: Hexyl Cinnamal, Benzyl Salicylate, Linalool, Coumarin, Citronellol, Pentadecalactone. 5-15 % Cationic Surfactants, Enzymes, Lactic Acid, Parfum/Fragrance, Alpha-Isomethyl Ionone, Benzyl Salicylate, Cinnamyl Alcohol, Citronellol, Coumarin, Geraniol, Hexyl Cinnamal, Linalool, Limonene, Benzyl Benzoate.
Free Delivery on all orders.
Free Return within 14 days
Add 25-35 ml to the detergent and place the cap into the machine or or place the cap inside on top of your clothes. Start the preffered program on the machine. Your clothing will come out clean, soft and with a flourishing, relaxing smell. Please read the instructions on the packaging carefully before use to determine the amount of the Scent Booster & Softener.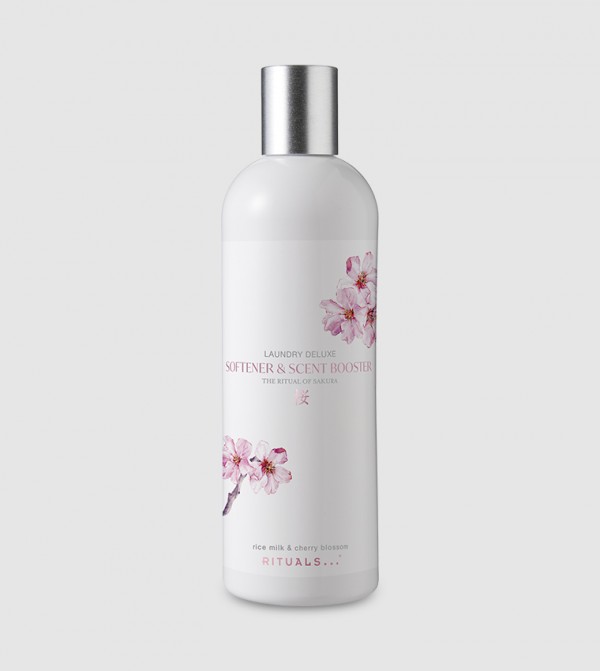 Scent Booster & Softener in 1 Sakura
The Ritual of Sakura