Private Collection
Suede Vanilla Scented Candle 360g
Luxury Scented Candle,360 g
This luxurious scented candle from our Private Collection evokes the scent of warm vanilla. Our sensual Suede Vanilla
...
Show more
This luxurious scented candle from our Private Collection evokes the scent of warm vanilla. Our sensual Suede Vanilla scented candle is a warm and aromatic fragrance that opens with the sweet and comforting scent of vanilla with base notes of cardamom, rosemary, patchouli and vetiver. Provides up to 60 hours of burning time.
Contains 1-(1,2,3,4,5,6,7,8-Octahydro-2,3,8,8-Tetramethyl-2-Naphthyl)Ethan-1-One; Amyl Cinnamic Aldehyde; Ethyllinalool; Citronellol; (+)-(1S,2S,3S,5R)-2,6,6-Trimethylbicyclo[3.1.1]Heptane-3-Spiro-1'-(Cyclohex-2'-En-4'-One); [1α(E),2β]-1-(2,6,6-Trimethylcyclohex-3-En-1-Yl)But-2-En-1-One ; Chromen-2-One.
Free Delivery on all orders.
Free Return within 14 days
When you light the candle for the first time, let it burn for at least 3-4 hours to melt the top layer for an even burn.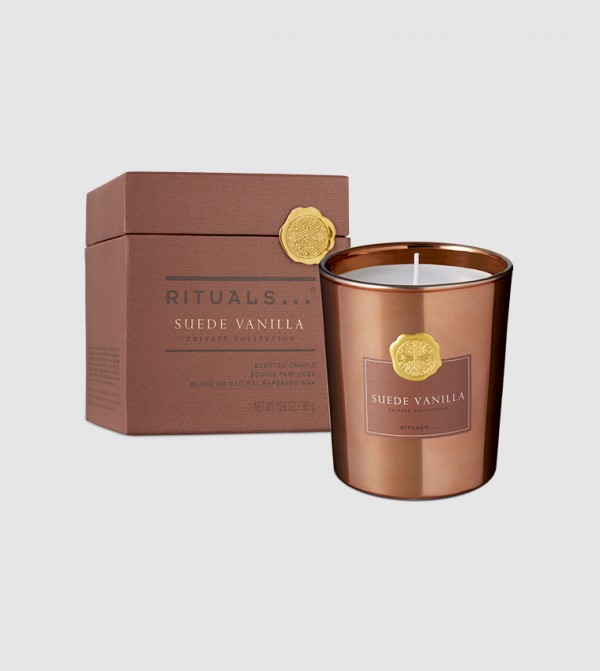 Suede Vanilla Scented Candle 360g
Private Collection