Private Collection
Suede Vanilla Scented Candle Mini 6x
6X Fragranced Mini Candles,6x43 g
Discover our Suede Vanilla scented mini candles, specially developed to refill your The Signature Collection
...
Show more
Discover our Suede Vanilla scented mini candles, specially developed to refill your The Signature Collection candleholder. This sensual fragrance combines the sweet and comforting scent of vanilla with base notes of cardamom, rosemary, patchouli and vetiver. All scented mini candles (6 pcs) in our collection guarantee a wonderful long lasting scent and high-burning quality of 10 hours each.
Contains 1-(1,2,3,4,5,6,7,8-Octahydro-2,3,8,8-Tetramethyl-2-Naphthyl)Ethan-1-One; Amyl Cinnamic Aldehyde; Ethyllinalool; Citronellol; (+)-(1S,2S,3S,5R)-2,6,6-Trimethylbicyclo[3.1.1]Heptane-3-Spiro-1'-(Cyclohex-2'-En-4'-One); [1α(E),2β]-1-(2,6,6-Trimethylcyclohex-3-En-1-Yl)But-2-En-1-One ; Chromen-2-One.
Free Delivery on all orders.
Free Return within 14 days
Clean your luxury candleholder with hot water or freeze it to easily remove any wax remnants. Place a single scented mini candle in the middle of your empty candleholder. You can now reuse your beautiful candleholder over and over again.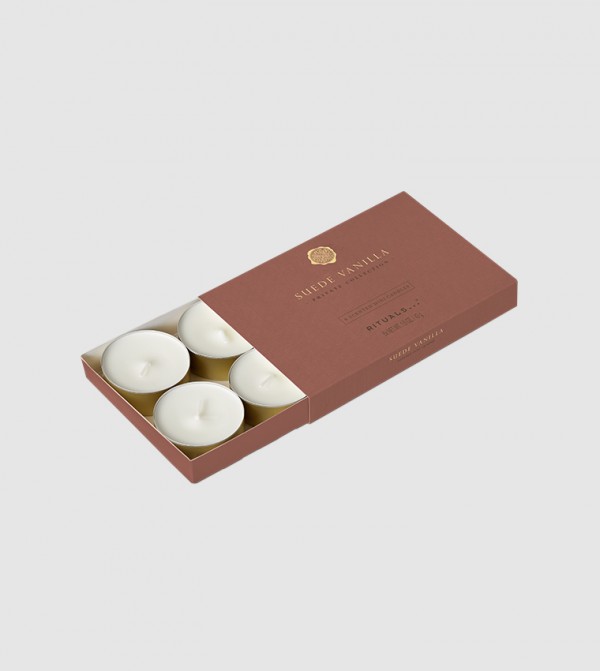 Suede Vanilla Scented Candle Mini 6x
Private Collection