The Ritual of Jing
Aroma Diffuser
Aroma Diffuser
Prepare for a good night's rest with The Ritual of Jing Aroma Diffuser. This new and innovative sleep diffuser creates a
...
Show more
Prepare for a good night's rest with The Ritual of Jing Aroma Diffuser. This new and innovative sleep diffuser creates a relaxing atmosphere for restful sleep by emitting a transparent cloud of fragrance. For just 10 minutes, your bedroom will be filled with a light, fragrant mist of powerful ingredients to help quiet the mind and calm the senses. Notes of relaxing lavender – known to help soothe the soul and provide relaxation – combined with precious sandalwood – to help clear and focus the mind for meditation – work together to help get your body, mind and soul ready for a good night's sleep.
Sacred Wood, Lavender
Free Delivery on all orders.
Free Return within 14 days
Unscrew the cap of the fragrance bottle and insert it into the bottom of your diffuser. You'll hear a click when it's properly inserted. Place the diffuser on an even surface, like your nightstand. Press the on/off button to start the 10-minute cycle. You'll see a fine mist rise from the tip, and a subtle light will turn on – both will automatically turn off after 10 minutes. Click the on/off button any time to end the cycle manually. If the device isn't working correctly, use a cotton swab to gently clean the metal plate within the tip of the diffuser. Regularly wipe the diffuser and the surface it's resting on to remove any residue from the mist.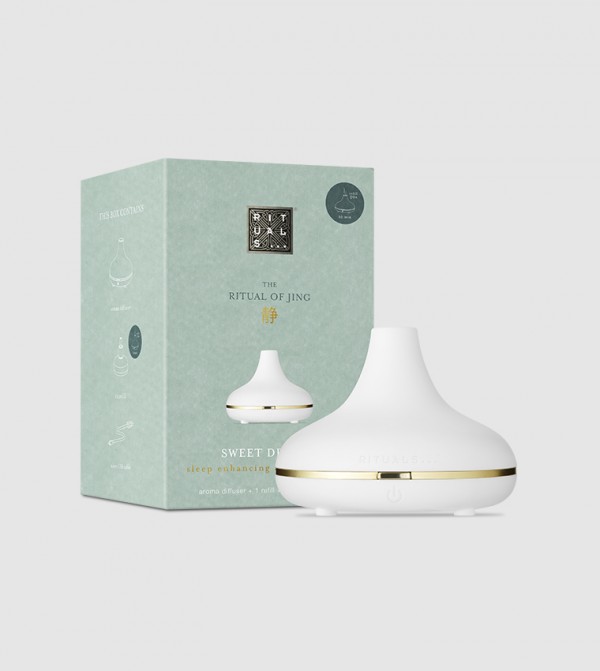 Aroma Diffuser
The Ritual of Jing