The Ritual of Jing
Detergent
Detergent,1000 ml
Enjoy the soft floral scent of your favourite collection The Ritual of Jing on your clothes and bed linen. The luxurious
...
Show more
Enjoy the soft floral scent of your favourite collection The Ritual of Jing on your clothes and bed linen. The luxurious perfumed detergent can be used for up to 33 machine wash cycles or up to 66 hand washes. Suitable for whites and colours. This detergent combines the delicate aroma of lotus with jujube, for a relaxing and cocooning sensation. Your laundry will thank you."
Aqua, Laureth-7, Sodium Dodecylbenzene Sulfonate, Sodium Laureth Sulfate, Sodium Cocoate, Alcohol, Tripotassium Citrate, Phenoxyethanol, Ethoxylated Polyethyleneimine, Sodium diethylenetriamine Pentamethylene Phosphonate , Styrene/Acrylates Copolymer, Sodium Chloride, Stilbene Derivative Brightener, Subtilisin, Disodium 4,4'-bis[(4-anilino-6- morpholino-1,3,5-triazin-2- yl)amino]stilbene-2,2'-disulphonate , Isopropyl Alcohol, Alpha-Amylase, Mannanase, Perfume (Alpha Isomethyl Ionone, Linalool).
Free Delivery on all orders.
Free Return within 14 days
Pre-treat stains directly on the clothes with a small amount of detergent. Please read the instructions on the packaging carefully to determine the right amount. For machine wash, add to washing machine tray or place the cap inside on top of your clothes. Start the preffered programme on the machine. Your clothing will come out clean with a flourishing, relaxing scent.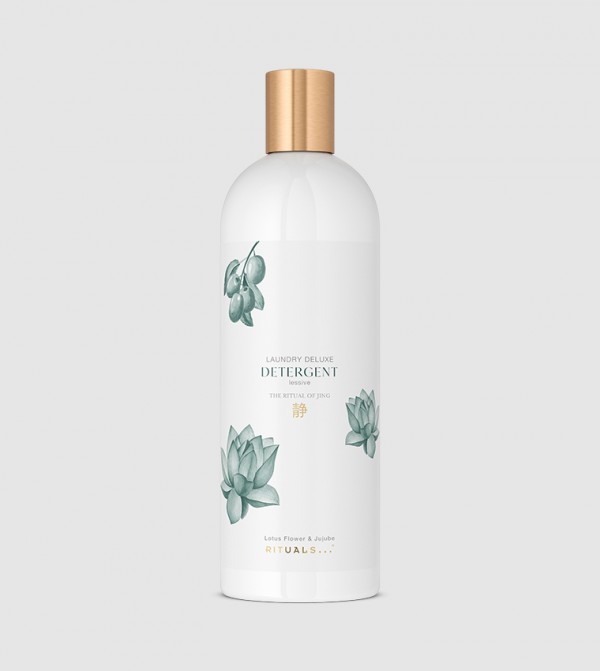 Detergent
The Ritual of Jing