The Ritual of Mehr
Incense Cones
Incense Cones
Infuse your home with the beautiful, uplifting scent of sweet orange and cedar wood with our The Ritual of Mehr incense
...
Show more
As low as
AED 67
Regular Price
AED 90
Infuse your home with the beautiful, uplifting scent of sweet orange and cedar wood with our The Ritual of Mehr incense cones. Incense is well known for its energy cleansing properties. The smoke of the incense will cleanse your home of any negative energy and spread a wonderfully energising fragrance around the room. Each fragranced incense cone contains a blend of natural wood powders and fragrance oils, and the ceramic holder was specially created for this collection with a gorgeous and golden ceramic design. Each package contains 20 high-quality incense cones, with an approximate burning time of 10 minutes per cone.
CONTAINS: Octahydro-Methoxy-Tetramethyl-Methanoazulene, Tetramethyl Acetyloctahydronaphthalenes, (2e)-2-Methyl-3-Phenylacrylaldehyde, Cinnamal, Eugenol, Linalool, Linalyl Acetate.
Free Delivery on all orders.
Free Return within 14 days
Place the incense cone in your luxury holder. Hold a lighter to the cone's top till it starts smoking. Extinguish any flames. The incense will burn down in about 10 minutes. Cone should be completely burned up and cool before disposal.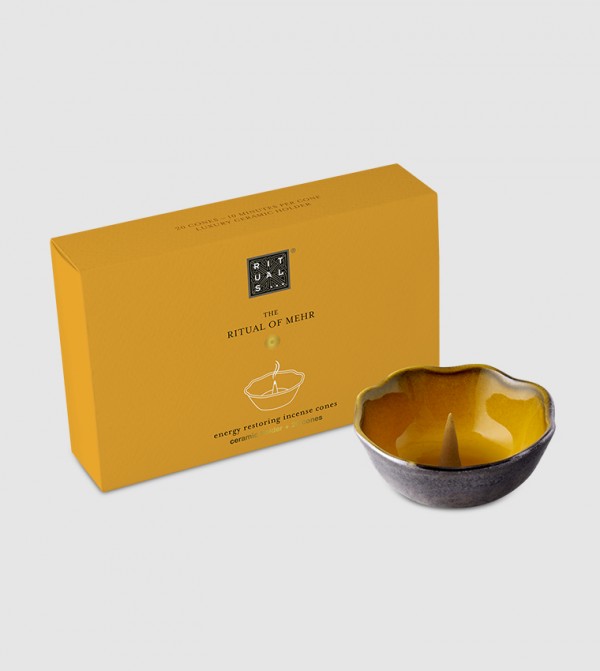 Incense Cones
The Ritual of Mehr