The Ritual of Namaste Hydrating Overnight Cream Refill
The Ritual of Namaste Hydrating Overnight Cream Refill, 50 ml
The Ritual of Namaste Hydrating Overnight Cream Refill
Show respect for nature and respect for skin with this eco-chic refill for your overnight cream from The Ritual of
...
Show more
Show respect for nature and respect for skin with this eco-chic refill for your overnight cream from The Ritual of Namaste. It fits perfectly in your luxurious jar, and contains the same great formula to give your skin the rest and replenishment it needs to restore itself while you sleep. This cream from the Hydrate line features an active complex with hyaluronic acid and Indian rose to restore your skin's moisture balance. Advanced, natural skincare that leaves your skin feeling refreshed and ready for a new day.
Free Delivery on all orders.
Free Return within 14 days
How to use your refill cup: First, remove the empty inner cup from the jar by pressing the bottom of the cup upwards. Then insert the new refill cup by slotting it into the jar. Remove the sleeve of your refill and press the cup into the glass until you hear a click. Your cream is now ready for use. Gently massage onto freshly cleansed skin, using circular motions. Allow skin to regain its moisture overnight. Use in combination with Hydrating Serum for improved results.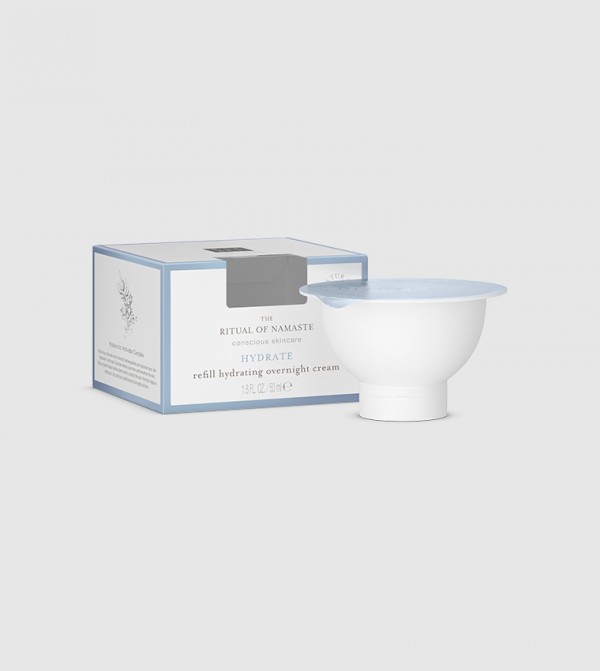 The Ritual of Namaste Hydrating Overnight Cream Refill, 50 ml
The Ritual of Namaste Hydrating Overnight Cream Refill