Private Collection
Wild Fig Mini Fragrance Sticks
Mini Luxurious Fragrance Sticks,100 ml
Create an inviting home ambiance with these luxurious mini fragrance sticks from our Private Collection. Enjoy an
...
Show more
Create an inviting home ambiance with these luxurious mini fragrance sticks from our Private Collection. Enjoy an enticing combination of juicy ripe Italian Fig, mingled with Chinese orris, and a fresh spicy clove accord. The fragrance is perfectly rounded off with creamy cocoa and Indian sandalwood nuances.
Contains: cis-4-tert-butylcyclohexyl acetate; linalool; 3-methyl-4-(2,6,6-trimethyl-2-cyclohexen-1-yl)-3- buten-2-one; geraniol; nerol; coumarin; pentadecan-15-olide; 1-(2,6,6-trimethyl-1,3- cyclohexadien-1-yl)-2-buten-1-one; 1-(1,2,3,4,5,6,7,8-Octahydro-2,3,8,8-tetramethyl-2- naphthalenyl)ethanone; citronellol; 2,4-dimethylcyclohex-3-ene-1-carbaldehyde; (+)-(1S, 2S, 3S, 5R)-2,6,6-trimethylbicyclo[3.1.1]heptane-3-spiro-1'-(cyclohex-2'-en-4'-one); Cyclododecane, (1-Ethoxyethoxy)- .
Free Delivery on all orders.
Free Return within 14 days
Arrange sticks in bottle. Turning sticks may affect how long they last. Wash hands with soap & water if you touch them.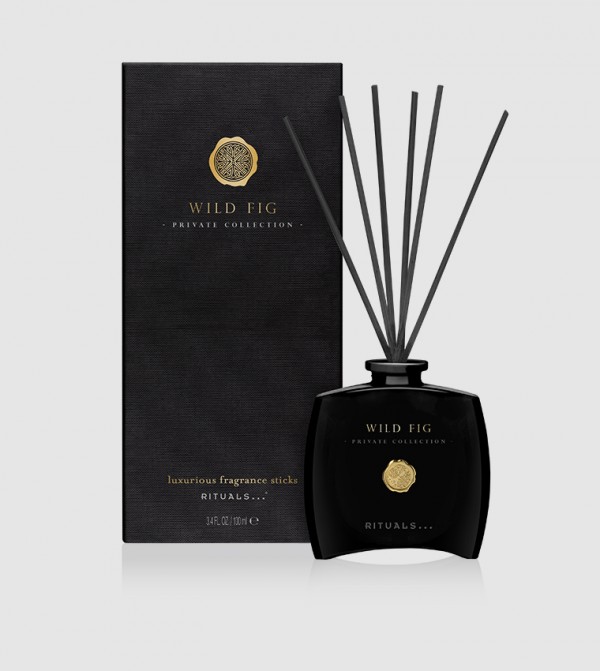 Wild Fig Mini Fragrance Sticks
Private Collection