Private Collection
XL Suede Vanilla Scented Candle
Xl Luxury Scented Candle,1000 g
Create a sense of calm in your home with the luxurious Suede Vanilla scented candle. This XL scented candle is a real
...
Show more
Create a sense of calm in your home with the luxurious Suede Vanilla scented candle. This XL scented candle is a real eye-catcher for the home and provides an explosion of fragrance into larger rooms such as the living room or a big hallway. This sensual fragrance combines the sweet and comforting scent of vanilla with base notes of cardamom, rosemary, patchouli and vetiver. This is a fragrance that you and your loved ones can enjoy for up to 70 hours.
Contains 1-(1,2,3,4,5,6,7,8-Octahydro-2,3,8,8-Tetramethyl-2-Naphthyl)Ethan-1-One; Amyl Cinnamic Aldehyde; Ethyllinalool; Citronellol; (+)-(1S,2S,3S,5R)-2,6,6-Trimethylbicyclo[3.1.1]Heptane-3-Spiro-1'-(Cyclohex-2'-En-4'-One); [1α(E),2β]-1-(2,6,6-Trimethylcyclohex-3-En-1-Yl)But-2-En-1-One ; Chromen-2-One.
Free Delivery on all orders.
Free Return within 14 days
When lighting the candle for the first time, let it burn until the top layer has melted (± 3-4 hours). This results in an even burn.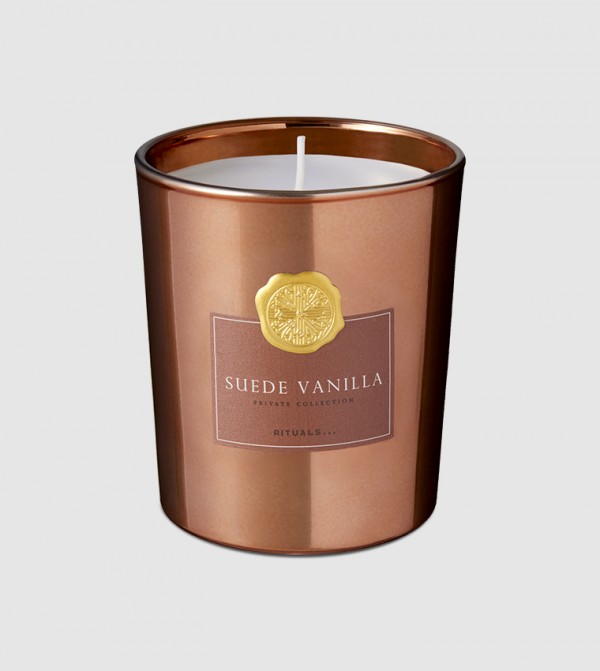 XL Suede Vanilla Scented Candle
Private Collection